Overview
gks provides customized Research & Analysis and Financial Accounting Outsourcing and Offshore Services to support better decision making. We provide Research & Analytical Services to sophisticated investors to make sound investment decisions in public as well as private markets. As a partner to the CFO of growing firms we provide Financial Accounting Outsourcing Services to support the rapidly changing requirements of a growing business. Besides that, we help them tackle corporate finance problems in areas such as investments, financing and M&A.
Funeral Home & Cemetery Back Office

Contract entry and automation


Finance & Accounting


Cash Processing


Management Reporting


Quality Audit of customer calls

Research & Analytical Services
We provide Research & Analysis support to investment banks, venture capital funds, private equity funds, asset managers, hedge funds and independent research firms. Our Research & Analytical Services are also used by CEOs and CFOs of firms to address strategic decision making. We use a wide range of databases and industry relationships to enhance the quality of our research and analysis.
Our clientele includes the following:

CEOs and CFOs of new, growing and large corporations worldwide


Hedge Funds


Private Equity Funds


Hospitality Companies


Manufacturing Companies


Investment Banks


Services Companies
Our areas of expertise include:

Energy Power, Oil & Gas, Renewables (Asia and US), New Energy Technologies, and Utilities


Healthcare generics makers in emerging markets


Consumer Products Ingredients and Packaging


India Power, Retail, Hospitality, Budget Airlines, Distressed Debt, IT Services and BPO

Financial Accounting Outsourcing Services:
Our professionals combine years of Big 5 accounting experience with hands-on experience in running the Finance & Accounting function for growing companies across the world. We understand the challenges that rapid growth presents to the CFO and the Controller of a company. We take a consultative approach to improve process design and suggest a robust outsourcing plan. We work in partnership with the CFO and Controller to ensure that financial reports are always on time and are accurate.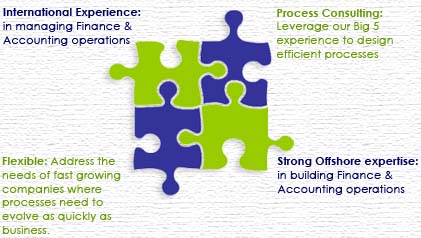 Our experience in the F&A area includes the following:

Purchase to Payment Cycle


Order to Cash Cycle


Banking and Treasury Accounting


Fixed Assets Accounting


General Accounting including month-end related processing


Management Reporting and Investor reporting


Payroll Processing


Benefits and Pension Administration


Employee Database Management


Exit Administration